Top Trusted Swing Check Valve Manufacturer & Suppliers in India.
Axegic Group Inc offers a sperior Choice of swing check valves manufacturer with exceptional precision and expertise. Our swing check valves establish perfect flow control and prevent backflow, making them ideal for wide range industries and applications. Our company is at the top place in all over the India for manufacturing the great ranges of swing check valves. Our company is widely acclaimed in offering the finest ranges of the industrial Swing Check Valves in India. It has been developed for long term application. This Swing Check Valves is treated with heat and is engineered with perfection. Axegic Group Inc offers world-class varieties of swing check valve that are perfect for different settings. We are a universal competitior whose name is a same for top quality in the swing check valve manufacturer industry. A swing check valve is a butterfly-style check valve in which the disc, the movable part to block the flow, swings on a hinge or grunion, either onto the seat to block reverse flow or off the seat to allow forward flow. The seat opening cross-section may be perpendicular to the center line between the two ports or at an angle. Although swing check valves can come in various sizes, large check valves are often swing check valves. Swing check valve shut off depends on gravity and reverse flow. The pivot point of the swing check valve is outside the edge of the disc and, the greater the head, the greater the possibility that the fluid will flow back through the valve before the disc can shut off. To affect complete shut off, the disc of a swing check valve must travel through a 90 angle arc to the swing check valve seat.
For standard or critical applications our swing check valves offer a wide range of convenience, performance and safety options. Full opening designs minimize pressure drop across the valve.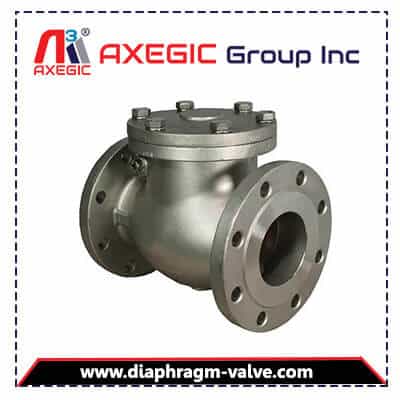 An important thing to be aware of when installing a swing check valve is that it is not completely maintenance free since the disc needs to be cleaned once in a while. Furthermore, a lever is often mounted to enable visual check. Therefore, swing check valves are often installed where personnel is present.
Features of Swing check valve
Longer service life
Dimensional exactness
High functionality
Durable finished standard
Light in weight